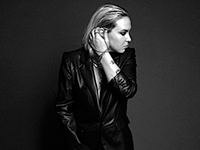 With her infectious bass and sharp beats, SIERRA has been unfolding her strong electro and darkwave signature energy ever since the release of her first EP STRANGE VALLEY in 2017, followed by GONE in 2019, which introduced fans of the synthwave scene to her work, both in France and abroad.
The vivid cinematic atmosphere and industrial undertones of her music lead her to be approached by online content creators (Youtube star Dr Disrespect has featured her work) as well as the video game industry. This resulted in her performing in Rennes at the Stunfest, a prominent event in the gaming world, following in the foosteps of influential artists PERTURBATOR and CARPENTER BRUT, who share her love of forceful genre- blending. Next, SIERRA headed out for a tour in Europe alongside CARBON KILLER.
In 2022, SIERRA was the opening act for CARPENTER BRUT's world tour both in Europe and North America. After performing for experimental music connoisseurs at the Roadburn festival in the Netherlands, she played to a sold-out crowd in the Point Éphémère in Paris and will release her first album A STORY OF ANGER (Virgin records) in September 2023.
Listen: Sierra @ Spotify
---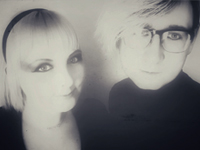 PROMENADE CINEMA invoke 'danceable darkwave' with memorable hooks and opulent melodies, striking a perfect balance between brooding synthwave, euphoric electro-pop and emotional synthetic orchestration.
Their new album for 2023, 'DARK DESIGNS' follows the critically acclaimed 2020 album 'EXIT GUIDES', and 2018 debut 'LIVING GHOSTS', featuring singles 'Spellbound' & 'On Video', both of which were featured in numerous 'Best of' blogs and features.
With incredible albums of intricate storytelling and gorgeous synth work the English duo PROMENADE CINEMA is set to become one of the best modern synthpop bands in the world.
If you missed their last performance at electriXmas in 2019 then now's your chance again! We're delighted to welcome PROMENADE CINEMA back to the electriXmas stage!
Listen: Promenade Cinema @ Spotify
---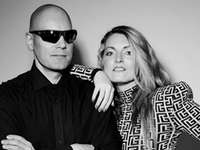 SOFTWAVE is a prominent synth-pop duo from Denmark known for their distinctive sound and evocative lyrics. Established in 2014, inspired by Erasure, they released their debut EP in 2016 "Together Alone". Since then they have released two albums as well as a string of singles and EPs, including collaboration with British songwriter/producer Barney Ashton-Bullock – a playwright,
poet and librettist in the project 'Andy Bell is Torsten' alongside Erasure's Andy Bell.
Comprising members Catrine Christensen and Jerry Olsen, SOFTWAVE has gained international acclaim for their ability to create music that resonates deeply with listeners. With a string of successful releases and a dedicated fan base, SoftWave continues to push the boundaries of the synth-pop genre.
Listen: SoftWave @ Spotify
---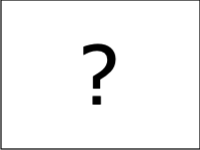 TO BE ANNOUNCED
.
.
.
Listen: xxx @ Spotify
---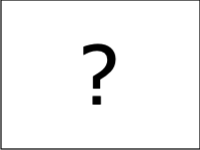 TO BE ANNOUNCED
.
.
.
Listen: xxx @ Spotify