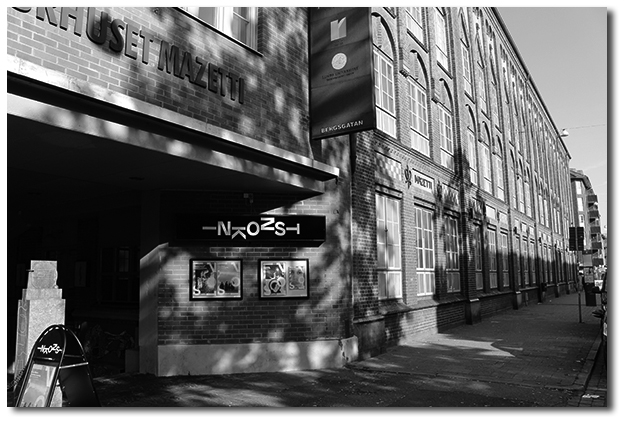 Inkonst is an international art center in Malmö featuring music, theatre, dance, performances, film, literature and art all under the same roof. Their aim is to present the world of contemporary art and create a platform for the new upcoming, along with the already established generation of artists, directors, musicians, film makers and culture promoters, nationally and internationally.
Focusing on interdisciplinary works and offering a platform for experimentation Inkonst want to establish new perspectives on performance art. The aim is to initiate and foster long-term artistic collaborations and stimulate international co-production and cooperation between different fields of art.
Inkonst is located in the former chocolate factory Mazetti in the center of Malmö, between the city districts Möllevången and Triangeln. Check out more on their website.
Accessibility
We aim to ensure that everyone can attend and experience the event regardless of any disabilities. The main areas of the venue which are open to the public during electriXmas are accessible on one floor at ground level. Facilities for better viewing of the stage are available, as well as accessible toilets.
Please get in touch for specific details and to discuss any additional needs you may have.
If you have an Assistance Dog of any kind, please get in touch to let us know in advance if possible.
How to get there…
By foot or car…
Inkonst is situated at Bergsgatan 29, 21422 Malmö, on the ground floor of the same building as the famous Mazetti Chocolate Factory.
By bus…
Regional buses (yellow) 100, 133, 146 (to stop "Malmö Spångatan")
City buses (green) 34, 35 (to stop "Malmö Barkgatan")
…all have stops within 50 meters from Inkonst.
Timetables for buses can be found at www.skanetrafiken.se.
By train…
Malmö Central train station is a 20-minute walk from Inkonst so taking a bus from Malmö Central is your fastest route.
Alternatively Malmö Triangeln train station is only a 5 minute walk. See the Google map for details.
Timetables for trains can be found at www.sj.se.
Alternative maps and directions can be found on www.eniro.se.
Accommodation
For visitors traveling to Malmö and needing hotel accommodation we can recommend The More Hotel Mazetti, situated right behind the venue.
Reservations can be made online at http://themorehotel.se/en/Malmo – be sure to select Malmö Mazetti and not Malmö Västra Hamnen!