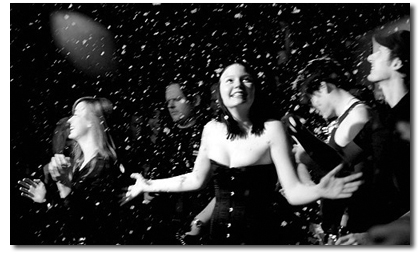 electriXmas is an annual alternative electronic music event based in Malmö, Sweden's 3rd largest city and is usually scheduled for the middle of December.
Established in its current form since 2002, electriXmas is Sweden's longest running alternative music event. It's the perfect round off to the year and the years most anticipated electronic Xmas party!
There is no dress code for electriXmas but the majority of visitors commonly dress according to the synth subcultures: synth, industrial, EBM, goth, cyberpunk, steampunk etc. Regardless of your style we encourage you to dress up to make it an evening not to be forgotten!
This years event is scheduled for the Saturday 10th December and as usual at our regular venue, Inkonst in Malmö. More information regarding the venue and how to get there can be found here.
Check out the History of the festival to see who's helped us make Xmas past go with a bang!
Check out the Artists page for info on the bands which are playing this year.
Please note there is an age limit of 18 years for this event. This is set by the venue and not by electriXmas.
Additional information can be found on the FAQ's page.
---
Parts of the program are arranged in collaboration with SUB – Riksförbundet För Subkultur
and with support from the Swedish Arts Council.