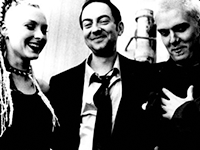 CAT RAPES DOG is one of the Swedish pioneers of electropunk, starting out as a duo back in 1986. After adding new members, changing lead singer in 1995 and releasing six albums in the nineties, they ran out of fuel in 1999. They still performed live throughout the first decade of the new millennium, but after 2009 the band fell silent until 2013 when the seventh album was released. However, no live performances accompanied this release.
After a ten year pause, Cat Rapes Dog returned to the stage in 2019. With some recent European shows in Prague and Germany, notably Amphi Festival in Germany they seem set to continue. Older and only little wiser, but stronger live than ever. Their last show at electriXmas was 2006 in Lund, and it's probably 20 years since they last played Malmö. So we're delighted to welcome them back once again!
Listen: Cat Rapes Dog @ Spotify
---
CRYO was created in 2002 by Martin Rudefelt, who acts as both composer and performer. But it wasn't until 2006 that the debut album Cryogenic was released on Progress Productions. After a change of members during the formative years, Torny Gottberg eventually joined the band to establish the current live lineup.
The mechanical and electronic style that Cryo stands for contains heavily processed sounds as well as simplistic textures. Heavy basslines and drums form the backbone of repetitive, aggressive pattern throughout the music. On top of this foundation, melodies and vocals create variation, warmth and softness.
Cryo is on the leading edge of Swedish electronic music, constantly seeking new paths and exploring new ways to bring you nothing else than pure perfection.
It's been a long time coming, but we're excited to finally welcome Cryo to the electriXmas stage!
Listen: Cryo @ Spotify
---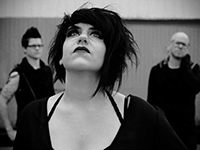 ME THE TIGER was born in Falun, Sweden in 2012 and received international attention after releasing their second album 'Vitriolic'. In the summer of 2016, the band performed at some of Europe's largest electronic festivals, including Mera Luna (Germany), Infest (England) and Nocturnal Culture Night (Germany).
The lyrics and the band's message is a central part of Me The Tiger. In days when individualism thrives, the band wants to highlight the solidarity values and contribute to a fairer and warmer society. We live together and we have a shared responsibility to care for each other – regardless of class, ethnicity or gender. Their skill, however, is the actual craftsmanship. Me The Tiger know how to create pop tunes, balancing the tension between melodic content, hooks and lyrics.
After their unforgettable performance at electriXmas in 2017 we welcome Me The Tiger back again!
Listen: Me The Tiger @ Spotify
---
Check back later to see who the final two artists for this years electriXmas will be!
---