Artists Schedule
Pay attention to the schedule and make sure you arrive in good time to be able get into the venue, check your coats and make it to the stage!
The performance stage times are approximate and may be affected by running times on the day.
Check out the Artists page for more information about the bands.
| Main Stage | |
| --- | --- |
| 19:00 | Venue open |
| 19:30 – 20:20 | Me The Tiger |
| 20:30 – 21:20 | Emmon |
| 21:30 – 22:20 | Cryo |
| 22:30 – 23:30 | Cat Rapes Dog |
| 23:45 – 01:00 | Boytronic |
| 01:00 | Main stage close (Bar stage with DJs remains open all night) |
| 03:00 | Venue close |
Stage times are approximate and may change on the night without notice
---
DJs
Just because there's times when a band won't be playing doesn't mean the party has to stop! This years DJs will bring you an eclectic mix of EBM, synthpop, synth wave,  wave-noir and electro. Our DJs will be playing all night in the Bar stage from 19:00 to 03:00.
.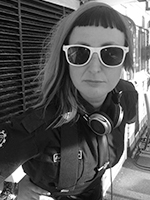 DJ The Fixx has been an active DJ and club organiser/band booker for over 15 years, including the PlusOne club. Founded in London it has since then continued with Stockholm as a base in various different formats. Now she lives in Gothenburg and can be seen on the local scene, everything from after work hanging out at Haket to also visiting other events and clubs such as Saturn, Electronic Winter & Summer. The Fixx has also played at other major events such as electriXmas in Malmö, DM Baar in Riga and Copenhagen.
The music is mixed with fingertip feeling and passion, known bands and new talents within the electronic and alternative scene, hard and soft, plus a dose of indie, are the most common genres played. The audience is guaranteed to dance themselves sweaty, discover new bands and rediscover old favourites from the past.
---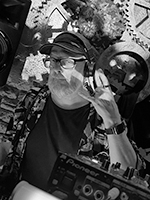 DJ Hawk grew up on an 80s diet of Synthpop and Italo Disco, and later supplemented with depressing Black Rock (what is now known as Postpunk), EBM, Industry and spiced up with a touch of Punk.
In the late 00s, Hawk started Klubb Control together with a couple of like-minded people where DJ Hawk played as resident DJ. He has played at clubs such as Tech Noir, Alternight, Synth After Work, Klubb Död, Plus One and at several festivals including Synthpop and Kärlek, Electronic Summer, Electronic Winter and Subkult. There have also been musical hits abroad at clubs in Dublin and in Germany, and also flipped synth records at Radio Pluto. For ten years now, Hawk After Work has been running the ElektroPub at Timebar in Stockholm together with two other electronic enthusiasts, LuggHenke and SyntJonas. Hawk plays synth, wide and good, old and new, songs to love and dance to… Synthpop, EBM, Darkwave, Postpunk, Minimal Wave, Synth Wave, Italo Disco, Raw Synth and more!
---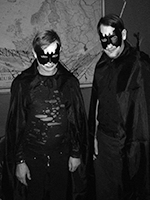 DJ duo Bats Out Of Helsingborg, representatives of Neostalgia and Transmission in Malmö, Steve and Johan have been DJ-ing since the mid-90s. Steve was one of the founding members behind Vogon and electriXmas before branching out to promote various gigs and the long running club night Neostalgia.
Johan started his "dj career" at The Tivoli in Helsingborg in the 90s as well as other synth events including a few times at Vogon. Since then he has mostly been seen spinning at Steve's club nights and gigs.
Both have been the house DJs at Electronic Summer in Gothenburg and at the synth nights at Charles Dickens in Helsingborg. They've also been seen at multiple electriXmas events over the years. Expect them to play everything from melodious synthpop with a sing-along feel to heavy and danceable EBM.
---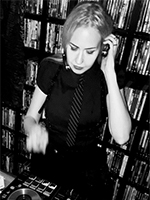 DJ Undine started DJ-ing in 2003 and has played at Vogon Variety, Neostalgia and electriXmas, amongst other events. Undine began her DJ journey by playing a lot of peppy synthpop, then discovered the fascination in futurepop and EBM and finally found her home in aggrotech.
You'll get to hear a little bit of everything with focus on trying to create a really good vibe. Code words – heavy and danceable!

The management reserve the right to change the lineup and schedule times without notice.