It's been a while, but we're finally able to announce the fourth artist for this years lineup!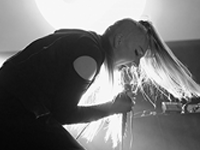 Capital X presents a straight-from-the-shoulder eclectic electronic collection for dark dancefloors everywhere, blending inspirations from strobe-laden stage shows with Atari Teenage Riot, Curses, Gary Numan, Sydney Valette and Zanias, and a range of collaborations with Maethelvin (Valerie Collective), Chikinki and Dame Bonnet (Curses live).
Capital X live is Julz CX, a storm of eclectic heavy electronics, weaving barbed vocal hooks and twisting leads against grinding bass and biting drums, her hard-hitting delivery powering through alternative electronica, dance, darkwave, synthwave, breakbeat and techno.
Check out the Artists page for more details.
As usual, tickets for electriXmas are only available online – via this website, or our ticket agent. Check the tickets page for more info and purchasing options.