We've been working hard with planning for this years event and the lineup is still being put together, but we have the first artist confirmed!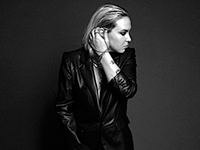 With her infectious bass and sharp beats, SIERRA has been unfolding her strong electro and darkwave signature energy ever since the release of her first EP STRANGE VALLEY in 2017, followed by GONE in 2019, which introduced fans of the synthwave scene to her work, both in France and abroad. In 2022, SIERRA was the opening act for CARPENTER BRUT's world tour both in Europe and North America and will release her first album A STORY OF ANGER (Virgin records) in September 2023.

We're delighted to welcome SIERRA to the electriXmas stage!
More artists will be announced in the next few days. Check out the Artists page for more details.
As usual, tickets for electriXmas are only available online – via this website, or our ticket agent. Check the tickets page for more info and purchasing options. We are of course keeping with tradition & there are a limited number of earlybird tickets available. But hurry, they'll go quickly!