We're delighted to be able to round of this years lineup with one of Sweden's foremost female artists. Expect something special when we welcome her to the electriXmas stage!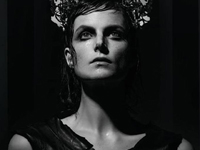 KARIN PARK has been referred to as the Scandinavian Nico for her persona, but her talents are considerably more. Having performed with such icons as Lana Del Rey and David Bowie among others, she expresses herself not only through music but also through perfumery and fashion as forms of art.
Heavily into synths, hugely inspired by Fad Gadget and a lot of the other Daniel Miller signings for Mute in the early 80s it took a while for KARIN PARK to find her feet. "I love pop music but I always need to dig deeper, evolve and find new territory. I easily move from Throbbing Gristle to Beyonce and back again."
Now touring on the back of her 2022 album 'Church Of Imagination', her first in five years, we sense the influence of Scott Walker, Massive Attack and Nico. But it is Karin's ability to use different elements to tell her stories that sets her apart. 

Tickets for electriXmas are only available online – via this website, or directly from our ticket agent Tickster. Check the tickets page for more info and purchasing options.